Our Service
Custom CMS Websites Design & Development Company In Dubai UAE
Content Management or CMS websites have a proper admin panel and allow users to interact with it. You can add, update, delete or post your product or content according to your requirement. In the whole site, data is organized in categories wise very efficiently and properly in module forms. When you add or publish something on your site it will be published as it is in a few seconds and stored in your database. The website consists of different categories and sections to transmit data. These sections transfer data by using separate modules including header, footer, menus banner, content, latest news, events, product images, videos, social media bar, and latest news. This whole procedure of management on a website is called Content Management System. It can be developed in any programming language but mostly used languages for CMS are PHP and .NET programming.
How Content Management System Works in Web Development
A Content Management System is basically application software that is used to manage the whole content on the user site. CMS web design is basically used to organize manage, edit or delete content. As you know, all the large companies nationally and internationally are using CMS-based websites. You can also avail of this CMS website from MK Creatives Tech Solutions which is at the top of many of the Web development companies in Dubai UAE.
We create custom and unique CMS platforms for clients that need a specifically personalized solution for a website or web-based system. Let your business do more MK Creatives Tech Solutions. Some of the notable paybacks that we offer with our convention CMS Facilities include the following: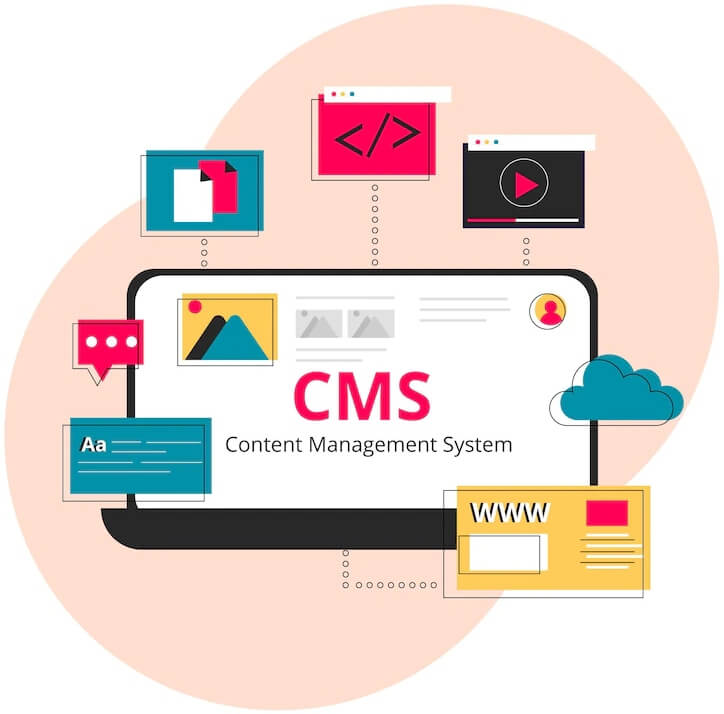 What Content Management System does in Web Development?
Due to its increasing demand all over the world now CMS is used in many website developments in Dubai UAE. It's one of the most important software that developers used around the globe. Page redesign, posting editing, and coding are very easy for developers and facilitate clients in many ways. It is mostly used by bloggers, news, and shopping sites. It is also simple and easy for clients due to its major components.
The structure of the CMS consists of many files that contain the primary layout of the whole site which used required programming languages and databases. Both database and programming languages create a page layout that is visible to all visitors or users.
Different programming languages like PHP or .Net are used to fetch the whole information in the database.
CMS is considered the record room because it contains whole the data of the site and keeps all records in its storage. Due to this, it has compatibility for both online and offline work.
Admin or Authorized user has privileges to make desired changes in the website.
Why You Should Choose MK Creatives Tech Solutions For CMS Website
Refined Features

We use several tools and more refined features to understand the essence of each to integrate complicate model.

Optimum Security

We provide optimum security solution to secure your website. Our developers prevent you from bugs and vulnerabilities.

Latest Technology

We use latest technologies and new features to develop your system which most compatible with your business.
Our Priority
Our Easy Design CMS Features
Attractive web design and layout.

1
Easy to manage pages and posts.

2
Photo grids and galleries.

3
Easy to edit, update and post.

8